THE D DAY STORY, PORTSMOUTH, ENGLAND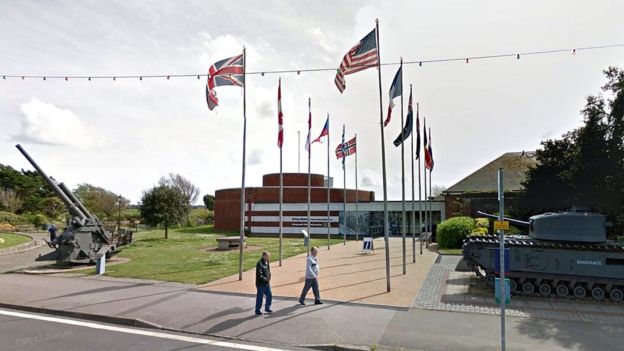 The D Day Museum on Clarence Parade, Portsmouth, PO5 3NT, reopened to the public on March 30th, 2018 as "The D Day Story" following a £5m makeover. In addition to advice and information on planning your visit and what to see, their website has information on special events in the months ahead and of their intention to commemorate the 75th Anniversary of D Day in June 2019. More information at https://theddaystory.com/plan-your-visit/
Access to a large car park is to the right of the main entrance (photo) to the museum.
DIRIGIBLE BALLOON HANGER and MUSEUM, ECAUSSEVILLE, FRANCE
HELP PRESERVE THIS HISTORICAL SITE AND MUSEUM

Visiting France via Cherbourg? Why not break your journey

on your route (N3/E3/E46) by visiting the hanger and museum. It lies to the west of the road between Montebourg and St Mere Eglise. If you're visiting the Normandy Beaches, particularly Utah and Omaha, go the extra mile to see this important historical building and museum. Your visit will help preserve the site for the benefit of generations to come.

Opening Hours

April - May: Wednesdays, Saturdays & Sundays - 2 to 6 pm
June: every day from 2 to 6 pm. (Closed on Friday)

July - August: Every day from 10 am to 6 pm

September: every day from 2 to 6 pm. (Closed on Friday)

Out-of-season:

visits by appointment.

Picnic area and snacks available on site.


The hanger, built in 1919, is an immense iron and concrete building 150 meters long, 30 meters high and 40m wide. It is the only survivor of the twelve airship hangers built by the French navy during the First World War to protect airships whose purpose was to attack and destroy German submarines.


It was classified as a historic monument in 2003 and is managed by the "Association des amis du hangar d'Ecausseville" which works towards its long term preservation.


Subject: Request for partnership and support,
Wednesday, May 31, 2017


In Ecausseville

.


Dear Sir/Madam,

We are an association that aims to preserve the Hangar of Ecausseville through fund raising to save and renovate the site. This site has a museum where we organize guided tours covering the complete history of the site over 100 years including WW1 (1914-18), WW2 1939-45 and the Cold War. We display equipment, photographs and models etc. and show films.

We would like, if possible, that you share on your site, our logo and our link to participate in the promotion of our museum which needs your help to increase the number of visits per year, as public aid has never been so low.

By this simple action you will help us to preserve this important shared heritage for future generations.

A big thanks in advance.

Yours sincerely,

Etienne Ophélie
Friends of the Hangar Association
---
75TH ANNIVERSARY OF COMMANDO RAID ON SARK - 3RD OCTOBER 2017
Operation Basalt - Commando Raid on Sark - 3/4 October 1942
Photos of the event here; https://spark.adobe.com/page/dHKMcaOToGWnJ/
Dear Geoff,
I am Chairman of a small group put together (mostly from the Sark Branch of the Royal British Legion, of which I am also Chairman) to organise the commemorations for the 75 anniversary of Operation Basalt, the Small Scale Raiding Force raid on Sark on 3rd/4th October 1942. The Raiding Force was commanded by Captain (later Major) Geoffrey Appleyard and was brought across the English Channel by MTB 344 commanded by Lieutenant Freddie Bourne.
The commemoration will take the form of an unveiling of a memorial stone on the 3rd October this year. Hopefully preceded by a naval and commando re-enactment of the landing on Sark, we await confirmation of the naval participation. However, there is to be a naval recce to Sark on the 25th of this month. On the evening of the 3rd October there is planned to be a Presentation/Talk and question & answer session at one of our hotels. On the morning of the 4th October we plan to conduct a led battle field walk 'In the steps of the commandos'. We have several of the Bramley War Memorial group and the half-brother to Geoffrey Appleyard (John Appleyard) already booked in to attend our commemorations.
We would be delighted if any visitors to your website wanted to attend our commemorations.
Yours sincerely,
Reg
Lt Col (Retired) RJ Guille MBE
Chairman – Op Basalt Group. (April 2017)
Operation Basalt
Detailed Programme Tuesday 3rd October and Wednesday 4th October 2017
Tuesday 3rd:
10:00 Ferry departs Guernsey.
15:00 Hog's Back
Welcome by Maj Christopher Beaumont, Seigneur of Sark & President of the Sark Branch, Royal British Legion.
Unveiling of the Commemorative Stone by Mr John Appleyard and Lt Col Reg Guille (late Army Commando & Chairman of the Op Basalt Group). The Standard of the Sark Branch, Royal British Legion will be paraded by Mr John Hunt during the unveiling ceremony.
19:00 Stocks Hotel, Brasserie
Presentation on Op Basalt by Mr Eric Lee (Author of the book Operation Basalt – The British Raid on Sark and Hitler's Commando Order). This is a ticketed event and tickets may be purchased from Stocks Hotel @ £28.00 this includes the buffet supper and a donation to the Op Basalt fund/Sark Branch of the Royal British Legion.
Presentation to be followed by a Question & Answer (Q&A) Session hosted by Mr Eric Lee, Mr John Appleyard and Maj Marco Ciotti.
Q&A Session to be followed by the Buffet, there will be a special party pricing list of selected alcoholic beverages from the Brasserie Bar.
Wednesday 4th:
11:15 Visitor Centre
Battlefield Walk 'In the Footsteps of the Commandos' will depart from the Visitor Centre. Tickets @£6.00 may be purchased from the Visitor Centre and monies will be donated to the Op Basalt fund/Sark Branch of the Royal British Legion. The walk will be led and presented by Maj Marco Ciotti with the help of Ms Jan Guy (Sark Walking Tour Guide), see Note 1.
The walk will commence with a presentation near the cannon and Op Basalt Memorial Stone on the Hog's Back, the walk will then take the route of the commando raid stopping at various points along the way for more detailed descriptions of the events that took place at those points of interest.
The walk will conclude at approximately 14.15 outside Dixcart Hotel.
17:00 Ferry departs Sark
NOTES:
1. Battlefield Walk Ticket Holders may join the Battlefield Walk at the Hog's Back.
2. The Visitor Centre will be hosting an Op Basalt Exhibition during the period.
3. The Sark Heritage & Occupation Museum will be open with an emphasis on Op Basalt and is well worth a visit. Opening times: Tue 3 Oct 11am – 2pm and Wed 4 Oct 2.30pm to 4.30pm. Please contact Kaye Char on Mobile: 07624-230911 for opening outside those times.
---
SAUNTON BEACH, DEVON - 2017 D-DAY EVENTS
Hi there guy's,
I'd like to take a min to inform you about our upcoming 1940's event, which is being planned for Saunton Beach (North Devon), Saturday June 3rd. We have an exciting programme of events planned and would love to have you involved!
The event is being held to celebrate and commemorate the 10,000 U.S. troops that lived and trained here in preparations for the D-Day landings. Therefore the central theme of the days events will be American, we are however welcoming all WW2 re-enactors and living history groups as they will help us to tell a more complete story of what was happening in England at that time.
This will be an interactive event that has a significant 'experiential' factor intended to involve and educate visitors. Free to the public, it will capitalise on the interest shown in previous events to bring crowds and media coverage. The event will also provide the model to develop for a large scale event planned in 2018.
From re-enactors who would relish the experience of camping out in the dunes and being part of our model Assault Training Centre camp, to period vehicle owners and stall holders. We really need you to help us to bring this event alive.
Interested?. If you have any questions, please do get in touch via sauntondday@gmail.com.
Best regards.
Lucie and Paul Tamlyn
Saunton D-Day 2017 Summary of Activities
Duration: 10 am – 4pm (with evening cinema event 7pm – 10pm TBC) Event cost: Free to the public (space for 600 cars). Location: Saunton Sands Beach, North Devon (on the sand). Contact: sauntondday@gmail.com
Background
Devon D-Day was established by local history organization Friends of the Assault Training Center (FATC) to educate about the experience of approximately 10,000 American GIs, who trained for the Normandy landings in the sand dunes of Braunton Burrows. FATC has organised a number of events at North Devon beaches and in particular 2 large scale events at Saunton (2015/16) which proved very popular. Working with First Wave 44 and Cobbaton Combat museum, battle scene re-enactments and period vehicle displays brought a real sense of the era.
Saunton D-Day 2017
Saunton Beach Enterprises, who manage the beach, will be helping to organise the 2017 event, allowing FATC to focus more on its educational role. The event will take place amongst the dunes, and on the beach and comprise of one days activities to entertain and educate.
Assault Training Camp
At its center will be a mockup of an A.T.C. camp and a programme of activities that follow a (genuine) day in the life of a 1940s GI camp. This will feature the everyday goings on of military life and training – from briefings on tactics for overcoming obstacles (including a mocked up pill box), PT exercise apparatus and camp cooking session. To bring the experience alive, there will be periodic 'flash mob' activities, with re-enactors engaging the public in pre-set activities including lectures on how best to assault a pill box, landing craft disembarkment practice, mail call distribution of letters + PT drills.
We are still seeking more re-enactors who would be interested in camping out (in their own section) to help us illustrate what camp life was like – in terms of kit, uniform, recounts of a soldier's life. During the day, visitors would be encouraged to mingle and learn.
Storming of the Pillbox – A re-enactment display
The climax of the day's activities will be an assault of the pillbox, conducted by First Wave 44. Showcasing tactics discussed earlier in the day in the flash mob camp activities (and supported by additional public info).
Education
Educational activity will be underpinned by the FATC tent, offering the public a chance to ask questions about the details of the WW2 experience of GIs living in camp and training in Braunton Burrows. In addition, a roving 'historical interpreter' (in costume) will be giving impromptu history lessons and lending explanations for DDD camp activities.
Cinema in the Dunes
Housed inside an army surplus field tent. During the day the cinema will show Spirit of the Sands (a documentary about the ATC) with an evening showing of Saving Private Ryan (TBC).
SDD Fringe
From a licensed bar and 1940s vintage tea tent to stalls and information booths, we are looking to build a beach strip leading to the camp that that conjure up the spirit of the era. If you can see a way of fitting into this, we would love to hear from you!
---
GEOFFREY APPLEYARD DSO, MC and BAR.
We are a voluntary group who look after 80 War and Remembered Graves in Bramley, Leeds, West Yorkshire.
This includes a Memorial to Major Geoffrey Appleyard DSO, MC and Bar of No.7 and No.62 Commando, he commanded the Small Scale Raiding Force and was the first 2nd in Command of the Second SAS Regiment.
He was posted Missing in Action in July 1943, aged 26.
In order to raise funds to restore and maintain his Memorial we have reprinted a facsimile edition of the book "Geoffrey" written by his father in 1946 - this has the full support of his family and marks the centenary of his birth.
Its a hardback illustrated book limited to 700 copies, produced in the UK and all proceeds after print costs and Amazon/PayPal fees, go to the restoration.
It can be purchased online via Amazon or via this link:
www.bramleywarmemorial.com/major-geoffrey-appleyard-book-now-available-for-purchase/
The cost of the book is £11.99 plus £3.00 Postage and Packaging, all books are sent First Class within one working day.
I've also attached poster and images of the book, I can be contacted on this email or on 07701 048812.
We've had good support from Geoffrey's Regiment, SAS Regimental Association and Commando Veterans Website
Thanks and kind regards,
John Barker.
---
May/June
Exhibition of Watercolours and Drawings.
Operation Chariot, the Raid on St Nazaire and POW Camp Marlag 'O' 1942 - 45
by
1st Lt Philip Dark RN
To be held at Abbott and Holder Ltd, 30 Museum St, London WC1A 1LH. Private view 6 - 9 pm, Thursday 21st May 2015. The exhibition will continue through to Saturday 27th June. All works will be displayed online from Wednesday 6th May.
Dark was a 1st Lt on Motor Launch (ML) 306, one of the craft that accompanied HMS Campbeltown on Operation Chariot, the Combined Operation raid on the huge Normandy dock in St Nazaire, 8 miles up the Loire on the 28th March 1942. The aim was to ram the explosive packed Campbeltown into the dock, destroying it so the German battleship 'Tirpitz' would never be able to use the dock as a base for raids on Allied shipping in the Atlantic. Dark's motor launch carried 15 of the 257 commandos who were supposed to destroy the adjacent submarine pens but who were captured before they could land. Of the 611 men involved in the raid, 169 were killed, 242 returned home and 200 were captured, including 1st Lt Dark.
His water colours and drawings record the raid on St Nazaire and his subsequent imprisonment in the POW camp Marlag 'O' near Bremen from Sept 1942 to May 1945. His works miraculously survived the war, together with his written account. They are a fascinating and vivid record lf his experiences.
---
June - August
Raffle of a Painting "Let's Play, not Slay"
by
David A Thorp
The painting depicts the legendary football match between the opposing forces in no man's land on Christmas eve 1914. It has a value of £2,500 and will be raffled during the summer of 2015 in aid of the Royal British Legion and the Cheshire Regimental Benevolent Fund. Almost £4,500 was raised for the Royal British Legion and other Charities.
---
Commemorative Event on Saturday 7th June in Grangues
Christine LeCallonec of the Dives area Tourism Office has received firm info from the Mayor of Grangues.

Her email reads as follows: I've had a contact with the mayor of Grangues, M. Langevin. There is a ceremony on Saturday the 7th of June at 11 am in Grangues. The meeting takes place near the church. There is a ceremony near the graves of the paras followed by a cold lunch at the Town Hall. The mayor wishes to know the names of the people who will come.
Names/numbers will help local organisers in budgeting for food. To that end would anyone wishing to attend the service and partake of the cold lunch option please send details to my website e-mail address at para-591@hotmail.com and I will pass your details on to Christine.

I run the www.591-antrim-parachute.info website where there is information about the Grangues plane crashes and the the war crime enquiry about the assassinated members of my grandfather's para squadron.

I suggest an arrival time around 10 am will ensure an orderly assembly at 11am. Traffic this year likely to be a major issue generally in Normandy.

Best wishes
Lesley
---
Armed Forces Day, Motherwell, 21st June 2014
All Welcome!
The Motherwell & Wishaw Citizen Advice Bureau are holding a public event in Hamilton Town Centre, Castle Street, on Saturday 21st June 2014, as part of the Armed Forces Day Celebrations – members of the Armed Services Community and of the General Public will have an accessible local venue to celebrate our serving and veteran armed forces community.
The Bureau deliver the Lanarkshire Region Armed Services Advice Project (ASAP), and we want to engage with as many serving and veteran members as we can. Other exhibitors will include advisory and health and well being partners, such as:
Ø Military Personnel – Spider dome, caravan & military face painting
Ø SSAFA
Ø Home Energy Scotland
Ø SAMH – Scottish Association for Mental Health
Ø TRIM – Trauma Risk Injury Management
Ø SLLC – Health & Wellbeing
Ø The Fire Service – Fire safety bus & chip pan display (operational fire truck)
Ø Local Authority Services
Ø Universal Connections
Ø Face Painting
Ø Terminal 1 Digibus
Ø Highland Dancing
The Event will be located in the Town Square, (access via Castle Street) at the War Arch Memorial. It will run for 4 hours at the busiest time of the day from 11am –
---
Programme of Events • Normandy • June 2014
Please feel free to circulate this programme to anyone you think may be interested.
After many changes, we have put this together from the last information received.
Where different times have been given by different people, the earlier time is shown.
(Something to do with a party at a drinks factory !)
Wednesday 4th June
0900 hrs. Bénouville:
140 teenagers leave Caen in 70 canoes together with a 1944 British Patrol Boat travel to Pegasus Bridge, arriving approximately 1130 hrs.
(MB) (MW)
1130 hrs. Memorial Pegasus:
Museum Curator will be presented with a book of the work the above students have carried out to commemorate the 70th anniversary of D-Day, in the presence of French Ministers of Sport and Veterans Affairs. Music by The West Yorkshire Police Band.
(MW) (YPB)
1430 hrs. Memorial Pegasus:
Concert by The West Yorkshire Police Band.
(YPB)
1600 hrs. Bénouville:
Speech and Wreath Laying at the No. 4 Commando Memorial (next to Cafe Gondrée) with Commandant KIEFFER Veterans and Fusiliers Marins of Lorient.
(MB)
1830 hrs. Putot en Auge:
Memorial Service at the War Cemetery, moving onto the Old Railway Station, Vin d'honneur. Parachute Band & Red Devils Free Fall Team.
(PRHQ)
Thursday 5th June
1000 hrs. Bénouville:
(HRH to lay wreath at the Glider Pilot Memorial) British Minister arrives at Avenue Commandant KIEFFER and crossing of the Pegasus Bridge. Ceremony at Signal Memorial at Major Howard Esplanade.
(MB) (HRH)
1000 hrs. Memorial Pegasus:
(Ticketed Event. The Museum will be closed to the general public) Wreath Laying at Ox & Bucks Memorial & Brigadier Hill's Statue. Re-Dedication of the refurbished Royal Marines D-Day Centaur Tank, in the presence of the British Defence Minister. Vin d'honneur.
(PRHQ) (MW) (YL) (PB)
1000 hrs. Memorial Pegasus:
Music by The West Yorkshire Police Band.
(YPB)
1300 hrs. Ranville:
(Ticketed Event with HRH) Veteran Lunch in the Village Hall. Presentation of 70th Anniversary Medals to Veterans. Band Display and Presentation of Major Jack Watson MC bust to the Village.
(PRHQ) (YL) (HRH)
1300 hrs. Memorial Pegasus:
Full Band Concert by The West Yorkshire Police Band.
(YPB)
1400 hrs. Saint Vaast En Auge:
Service of Remembrance in English and French. Vin d'honneur.
(MSt)
1530 hrs. Ranville: (Ticketed area for Veterans with HRH)
DZ "N". (The road between Ranville and Bréville will be closed) Parachute Drop by The Red Devils & Pathfinder UK Group Free Fall Teams. Parachute drop by French, British, Canadian and American
(what are they doing on Our DZ ?)
Para.
(PRHQ) (YL) (HRH)
1630 hrs. Le Mesnil (The Brickworks):
(Ticketed Event with HRH) Service of Remembrance. Wreath Laying at 3rd Para Brigade and Canadian Monuments.
(YL) (PRHQ) (HRH)
1700 hrs. Bréville Les Monts: (HRH will attend a reception)
Memorial Service. Music by The West Yorkshire Police Band. Vin d'honneur.
(PRHQ) (MBr) (YPB) (YL) (HRH)
1800 hrs. Merville Battery:
Unveiling of a cross of Sacrifice. Parade of 9th Para Veterans.
(PRHQ) (YL) (GBM)
1800 hrs. Bénouville:
Welcoming of Major Howard's men of the Ox & Bucks and the 7th Para Battalion. Concert by The West Yorkshire Police Band at the Village Hall.
(MB) (YPB) (PB)
2000 hrs. Troarn:
Dinner of The 3rd Para Brigade Memorial Association. (Booking Only from Yves Le Cuziat MBE)
(YL)
2215 hrs. Memorial Pegasus:
(FREE Entry but Only Limited Places Available) Re-showing of last years controversial Film "6th June 1944 - They Were The First" by French director Jean-Michel VECCHIET.
(MW) (PB)
2300 hrs. Troarn:
Fireworks at the Dives Bridge.
(YL)
2330 hrs. Merville Battery:
Firework Display organised by Normandie Memoire.
(GBM)
2330 hrs. Bénouville:
Ceremony by Major Howard's Bust on Landing Zone. Firework Display by Pegasus Bridge.
(MB) (PB) (MW)
Friday 6th June
0900 hrs. Ranville:
(Ticketed area for Veterans & Families) Wreath Laying Ceremony at Crossroads. Mass at the Church. Memorial Service in the War Cemetery.
(PRHQ) (YL)
1030 hrs. Ranville Churchyard:
Wreath Laying at the grave of Den BROTHERIDGE.
(PB)
1100 hrs. Ranville War Cemetery:
Music by The West Yorkshire Police and Parachute Regiment Bands.
(YPB)
1115 hrs. Bénouville:
March to Bénouville Cemetery for Wreath Laying on British Graves by children and British Cadets.. Music by the Band of Liberation.
(MB)
1230 hrs. Bénouville:
March from the Town Hall to Signals Memorial for Wreath Laying Ceremony. Music by The West Yorkshire Police Band.
(MB) (YPB) (PB)
1310 hrs. Bénouville:
Ceremony at 7th Para Memorial opposite Town Hall. Vin d'honneur.
(MB) (PB)
1400 hrs. Banneville War Cemetery:
Memorial Service. 350 children lay flowers on War Graves in an Act of Remembrance.
(YL) (PRHQ) (MSa)
1530 hrs. Hérouvillette:
Wreath Laying Ceremony with the Mayor and children of the village.
(PB)
1530 hrs. Touffreville Churchyard:
Wreath Laying at the grave of Corporal O'Sullivan.
(YL) (PRHQ)
1530 hrs. Bures Sur Dives:
Wreath Laying Ceremony at Captain Jukes Memorial.
(YL) (PRHQ)
1545 hrs. Touffreville:
Wreath Laying at the Billington & Platt Memorial.
(YL) (PRHQ)
1600 hrs. Touffreville:
Wreath Laying at the 8th Battalion & Brigadier Pearson Memorials.
(YL) (PRHQ)
1615 hrs. Escoville:
Wreath Laying with the Mayor. Vin d'honneur.
(PB)
1700 hrs. Troarn:
Wreath Laying at the 3rd Para Squadron Royal Engineers & French Memorial. Vin d'honneur.
(YL) (PRHQ)
1830 hrs. Bénouville:
Concert (Tattoo) by the Band of Liberation.
(MB)
2000 hrs. Merville Battery:
Bagpipe Concert by the MacFarlane Pipe Band.
(GBM)
Saturday 7th June
RAF Fly Past with a Lancaster, Dakota, Spitfire and Hurricane. See below for timings ! ! !
0930 hrs. Sannerville:
Wreath Laying at 4th Special Service Brigade Royal Marine Commandos Memorial. Music by The West Yorkshire Police Band.
(YL) (YPB) (MSa)
1000 hrs. Grangues:
Service of Remembrance followed by the scattering of the ashes of Wally TROUTT of the 12th Battalion.
(B&F)
1000 hrs. Sannerville:
3rd Division Memorial (by Church). Wreath Laying. Fly Past. March Past with Military Band. (followed by Lunch. Booking Only from Yves Le Cuziat MBE)
(YL) (MSa)
1000 hrs. Merville Battery:
Official Ceremony of the British No. 3 Commando.
(MGB)
1100 hrs. Merville Battery:
Ceremony to celebrate the official classification as a historical monument of the 'SNAFU SPECIAL'. Fly Past.
(GBM)
1400 hrs. Sannerville:
Concert by The West Yorkshire Police Band.
(YL) (YPB)
1600 hrs. Bénouville:
Major Howard Esplanade. Artistic Representation Project "Operation Neptune".
(MB)
Sunday 8th June
0930 hrs. La Cambe German War Cemetery:
Service of Remembrance. Captain Dr. David TIBBS MC (RAMC attached to 13th Battalion) to lay Wreath. It would be nice if other Veterans could join us at this event.
(B&F)
1000 hrs. Beuzeville:
Meet at the Town Hall and parade to the War Memorial and War Graves in the Cemetery. (followed by a meal. Booking Only from Yves Le Cuziat MBE)
(MBe)
1030 hrs. Merville Battery:
Open Air Mass.
(GBM)
2000 hrs. Merville Battery:
Bagpipe Concert by the MacFarlane Pipe Band.
(GBM)
INFORMATION OF EVENTS FROM:
(B&F) = Bern & Fay Robins • Independent Research Collators.
(GBM) = Mairie Merville Franceville • Gun Battery Museum.
(HRH) = From Prince Charles Diary.
(MB) = Mairie Bénouville.
(MBe) = Mairie Beuzeville.
(MBr) = Mairie Bréville les Monts.
(MSa) = Mairie Sannerville.
(MSt) = Mairie St Vaast en Auge.
(MW) = Mark Worthington • Memorial Pegasus Museum Curator.
(PB) = Penny Bates • Ox & Bucks Organiser.
(PRHQ) = Paul Rodgers • Parachute Regimental Headquarters.
(YL) = Yves Le Cuziat MBE • 3rd Brigade Memorial Association.
(YPB) = Keith Williams • Yorkshire Police Band.
---
70 Anniversary D-Day Event in Harwich, Essex. HM LBK6 (Landing Barge Kitchen) is the clubhouse of the Harwich and Dovercourt Sailing
Club. A Remembrance Service was held on the 69th anniversary of D-Day on June 6th 2013. Representatives from the service organisations, veterans their families and friends assembled on the lower deck (function room) which was very ably opened by D Day veteran Ron Smith (photo), a member of the LST & Landing Craft Association. The lower deck is now officially known as "The Normandy Room" as a a tribute to those ships and men whose destiny it was to sail to Normandy that fateful day, amongst which was, of course, LBK6.
This 70th Anniversary year we are again holding a Commemoration event and hope to welcome all service veterans from whatever field who cannot make it to Normandy, plus their family and friends. The programme starts around 11.00 am with coffee and biscuits followed by a gentle short parade with pipe band at around 11.30 am. Lunch and a few "goodies", provided by the club, will draw the proceedings to an end.
To help with the organisation of the event, anyone wishing to attend should please e-mail the Harwich and Dovercourt Sailing Club in the first instance.
The Club is located at: Gas House Creek, Harwich, Essex.
---
COMBINED OPERATIONS MEMORIAL DEDICATION CEREMONY
JULY 4TH 2013
Dedication Ceremony in words and photos