814 LCV (P) 'Build Up' Flotilla - D Day.
Ferrying Troops from Mother Ships to Sword Beach, Normandy
Background
814 HM Landing Craft Vehicle (Personnel) Flotilla, (814 LCV (P)), took part in the D-Day landings. Royal Marine, Roy Nelson, was on board LCV (P) 1155, one of 16 identical craft hoisted aboard a Landing Ship Tank (LST) for the journey across the English Channel to the beaches of Normandy.
[Photo; LCV P. © IWM (A 24664).]
7 of the 16 craft in the flotilla were recorded as war losses and two Royal Marines from the flotilla were killed. Their Commonwealth War Grave Commission records were corrected as a result of information gleaned during the preparation of this account.
Early Training
I was 17 years old when I joined the Royal Marines in March of 1943. During that summer, I was transferred to Combined Operations and commenced training in North Wales on crewing minor landing craft. Further training was provided at the Royal Naval College in Dartmouth, where we were issued with our 'blues' and the treasured Combined Operations badge. The latter entitled us to an extra sixpence (2.5p) a day or £9 per year! Whilst at Dartmouth, we practiced 'beachings' at Blackpool Sands with American troops, who were based in the area.
These joint training exercises for future combined amphibious operations against the enemy were commonplace. They involved both the navy/royal marine crews of the landing craft and their army passengers who would share the hazardous crossing of the English Channel and the landing on the Normandy beaches, in many cases under enemy fire. To land safely and to discharge our cargos of men and supplies in an efficient manner required all concerned to know what to do and how to react to unpredictable circumstances.
In late 1943, I arrived at HMS Robertson at Sandwich in Kent with my 'oppo', Norman 'Goldie' Goldsmith. Initially, we were allocated to 810 LCV (P) Flotilla of 'C' Squadron, which comprised four flotillas, 810-814 inclusive. However, shortly afterwards, I was promoted Corporal/Coxswain and transferred to 814 LCV (P) Flotilla and, in so doing, took over HM LCV (P) 1066. We were now operational and undertook general seamanship and repeated landing craft training exercises, including beach landings, in readiness for what became the D-Day landings of June 1944.
[Photo: Back row; 1st left Cpl Clark, 4th left Cpl Hewitt, 6th left Pete (Zeke) Barlow, far right 'Lofty' Wagstaff, 3rd from right John Tomlinson. 4th row; 2nd left Cpl Pete Money, 3rd left Cpl George Pargeter, 5th left Cpl Roy (Admiral) Nelson, 5th from right Syd Liddle, 7th David How 8th Ray Pedelty; 3rd row; 7th from left K 'Darkie' Wisdom. 2nd row; 1st left Ron Tomkins, 3rd left Cpl Rhodes. Front row; 1st left Cpl Ken Smith, 4th left Alexander Brown from Burnbank, Glasgow, 5th left Col/Sgt Adams, far right Cpl Hannabus, 4th from right Sgt Cox, 5th from right Sgt Smith. Centre Front Captain Harry Barnes and Lt Peter Haynes.]
Our commanding officer was Captain Harry Barnes, RM, from Liverpool and 2nd i/c was Lieutenant Peter Haynes, RM. Other names I recall are Sergeants Cox and Lovell and Corporals Kent, Hannabus and George Pargeter.
I'm writing the bulk of this on March 31st 1997 and I have recently been in touch with several old comrades including Ron Tomkins, John Tomlinson, Pete Barlow and Ray Pedelty. Together, we attended re-unions at Lympstone and the 50th Anniversary of D-Day in Portsmouth, which presented opportunities to refresh memories in discussion.
Early in 1944, whilst practicing beach landings at Ramsgate, we ran into a spot of bother. There was an unfortunate coincidence of malicious weather, troublesome tides and conflicting orders, all of which contributed to my craft becoming stuck on a sand bank as we approached the landing beach.
I am, even now, reluctant to admit to poor seamanship but the reality was that LCV (P) 1066 'broached to' and became fast on the sand bar. In spite of heroic efforts to release us by 814, 1066 became firmly beached as the tide receded. We stayed overnight on the craft and resumed our attempts to re-float the following morning. When 1066 resolutely refused to move, we removed our equipment and 'abandoned ship!' I often wonder what became of 1066 after I left her in Ramsgate.
[Tony Chapman of the LST and Landing Craft Association writes; "LCV(P) 1066 is recorded lost during exercises in the Richborough area of Kent during February 1944".]
My second command, following the loss of the 1066, was LCV (P) 1155. In the spring of 1944, together with the craft of 814 Flotilla, we left HMS Robertson and sailed through the Dover Straits and along the coast to Rye in Sussex, where we stopped for a much needed break. Earlier on the journey, a steering cable snapped and 1155 proceeded to go round in circles! However, with the help of an emergency rudder, we limped into Rye for repairs.
Our next port of call was Hayling Island's HMS Northney III, where we continued to hone our training in readiness for the forthcoming Normandy landings. During this time, we gave assistance to a battalion of US Navy 'Sea Bees' (naval construction personnel), who were working on large concrete caissons off Selsey Bill. Such was the secrecy that we had no idea the caissons would be towed across the English Channel, shortly after D-Day, to form part of the Mulberry Harbour at Arromanches.
By my recall, it was Saturday June 3rd 1944, when the craft of 814 LCV (P), Build Up Flotilla, joined a section of the fleet anchored off Ryde on the Isle of Wight. Our reserve crews, meanwhile, boarded the depot repair ship, Cap Tourane, in Tilbury Docks, London. The Cap Tourane was to be our base while off Sword beach.
LCV(P) 1155 was hoisted aboard a large Landing Ship Tank (LST) suspended from davits at the stern. There were two craft to portside and two to starboard. However, a fellow veteran believes our whole flotilla of 16 LCV (P)s was carried in one converted LST, with eight craft to portside and eight to starboard, while others believe we were carried over on a Landing Ship Infantry (LSI)!
In any event, the 814 Flotilla set off on the morning of June 5th to become part of the largest armada in history.
[Tony Chapman of The LST & Landing Craft Association, writes:- "Recorded as part of 814 Flotilla on June 5th 1944 are LCV (P)s 1064, 1065 , 1067, 1148, 1153 , 1154, 1155 , 1157, 1158, 1159 , 1161, 1170 , 1171, 1181, 1184 and 1250. Craft shown in bold are listed war losses in the assault area. The extract from the Admiralty's 'Green List' opposite confirms this disposition and provides additional information".]
It was an unforgettable, awe inspiring sight, which has been described countless times. Suffice to say the realisation that 'this was it'; the culmination of almost a year's training was about to be tested. The crossing of the Channel was uneventful and, on arrival off Sword beach, our craft were lowered from davits into the water by our 'carrier ship' to begin our allotted tasks. We never returned to her and sadly, as this is being written, the question of her identity remains unresolved and will likely remain so.
Our depot ship, Cap Tourane, took up position off Sword beach on June 8th to become our rendezvous point for changing crews.
[Tony Chapman, LST and Landing Craft Association writes; "The Cap Tourane departed Tilbury at 0600 hours on the morning of June 7th sailing in Convoy ETM 2 for service at Gooseberry 5 (Sword beach area, sheltered by the sunken 'blockships' Becheville, Belgique, Elswick Park, Empire Defiance, Empire Tamar and Empire Tana.) She was later damaged by gunfire on June 22nd and 25th and later moved to Gold beach area on June 29th".]
It was six days after first leaving Cap Tourane that we returned to her to take our first break. I discovered that I had lost my gold signet ring, given to me six months earlier by my parents on my eighteenth birthday. The loss upset me as much as anything I had witnessed during the invasion. It was several months before I was able to tell my parents. They were understanding and were just pleased I was home, which put it all into perspective.
Our Headquarters ship was HMS Largs, which we visited from time to time for briefings and instructions. Some shelter was provided when several obsolete ships were sunk off Sword beach. It was known as the 'Gooseberry' and although not as sophisticated as its big brother the 'Mulberry Harbour' at Arromanche, it proved to be a popular rendezvous for minor landing craft, particularly so during the severe gales that blew up on June 19th to the 22nd. This was a very critical and concerning time, since few supplies and reinforcements could be safely landed.
No amount of training could have prepared me, mentally, for actual warfare. I was just 18 years of age and already in charge of a landing craft and crew of 2. It was a lot of weight to carry on such young shoulders. The majority of landing craft crews were between the ages of 18-20 and classified as 'Hostilities Only' men. The hostilities were not difficult to find with their associated dangers, but camaraderie amongst the lads, saw us through the rough times.
Living conditions on board our LCV (P) were pretty basic, a bucket for a toilet and a primus stove for making tea with compo rations to live on. The craft was not designed to provide long term shelter and sustenance for its crew, but it often did, out of necessity. Visits to the Cap Tourane for 'rest and recuperation were limited to around 2 per week.
In the weeks following D-Day, we became the work-horses of the beach-head fetching and carrying, according to need. It kept us busy, which was no bad thing, although we did find the time to scout around scrounging food whenever the opportunity presented itself.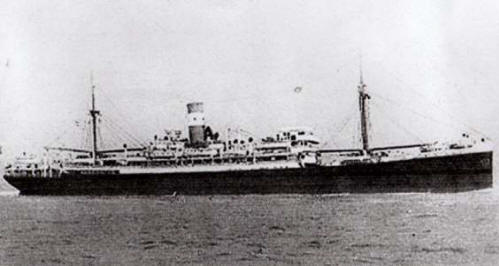 After several weeks, we evacuated to Gold beach near Arromanches, where the Mulberry Harbour was well established. LCV (P) 1155 was, by then, in urgent need of repairs. A beach repair party undertook the task of assessing what needed to be done. We (all three of us) took advantage of the situation by going ashore for the first time since leaving the UK, but, in truth, we did not have a very comfortable night.
[Photo; Cap Tourane.]
When we returned to the beach in the morning, there was no sign of LCV (P) 1155. I felt sick in the stomach to find her missing but soon discovered that the repair party had declared her beyond repair. She had been written off and unceremoniously bull-dozed out of the way to allow the war to continue.
[Official records show that HM LCV (P) 1155 was recorded lost in the assault area approximately June, 1944.]
So, there we were, up a creek without the proverbial paddle or, in our case, a landing craft. We made our way back to the Mulberry Harbour to hitch a ride back to the Cap Tourane to explain our circumstances to Captain Barnes. Thankfully, there was no court martial or even a charge. I believe only three craft were by then operational out of a total of sixteen and were urgently in need of replacements. I have little doubt in my mind that the 'powers that be' never expected many minor landing craft to make the journey home.
We were fortunate to have Captain Barnes as our Flotilla Officer. He was a great leader and very approachable - a kind of father figure to most of us young men. After the war, he wrote a letter to every member of 814 offering his services should any of us require his help or advice. I have long regretted that I never replied.
Sword beach was on the extreme eastern flank of the invasion and was subjected to much enemy shelling, which continued throughout our stay there. We lost a number of craft but, surprisingly, casualties amongst our flotilla were light with several being injured and sadly, two killed
[Photos l - r; The grave of Lieutenant Peter Haynes, the grave of Syd Liddle and the Cemetery at Hermanville.]
They both rest in the cemetery at Hermanville and I have visited their graves to pay my respects. One was a much liked 'Geordie' lad named Syd Liddle aged 19 years, who was fatally wounded whilst with his craft and the other was our Lieutenant, Peter Haynes, aged 20 years, killed when a shell hit the Cap Tourane.
Roll of Honour
Lieutenant Peter Broadhurst Haynes. RM June 25th 1944, Wolverhampton. Royal Marine Sydney Liddle June 26th 1944 of Morpeth, Northumberland. We will remember them.
[Tony Chapman writes:- "Since receiving Roy's recollections, I contacted the Commonwealth War Graves Commission (CWGC) to advise them of the loss of Peter Haynes and Syd Liddle from 814 LCV (P) Flotilla. Both men were recorded lost from their shore base as opposed to the 814 LCV (P) flotilla they were serving with at the time. The CWGC records have now been amended".]
In any battle, there are many unsung heroes and a few who receive official recognition. One of the latter was a fellow coxswain, George Pargeter, who was awarded the DCM (Distinguished Conduct Medal). A rhino barge was being loaded with ammunition from a supply ship, when it received a direct hit and caught fire, putting the ship at great risk. George and his crew secured a line to the barge and towed it away from the side of the ship, averting a possible disaster - a selfless action that put the lives of George and his crew at great risk.
Roy Nelson could never have imagined that, 66 years after the events described above, he would once more take the wheel of an LCV (P). It happened during the filming of the BBC 4 series "Boats That Built Britain" in November 2009, with Tom Cunliffe as presenter. The half hour film was broadcast in May 2010, during which Roy talks of his wartime experiences and is seen at the wheel with Tom Cunliffe and his film crew as passengers.
The American built LCV (P) or 'Higgins Boat' was, we understand , brought over to the UK for the filming of "Saving Private Ryan" and was moored at Beeston Marina in Nottinghamshire for some years.
On this website there are around 50 accounts of landing craft training and operations and landing craft training establishments.
There are around 300 books listed on our 'Combined Operations Books' page which can be purchased on-line from the Advanced Book Exchange (ABE) whose search banner checks the shelves of thousands of book shops world-wide. Type in or copy and paste the title of your choice or use the 'keyword' box for book suggestions. There's no obligation to buy, no registration and no passwords. Click 'Books' for more information.
Correspondence

Hi Geoff,
Fantastic website and thank you for all you've done over the years on Combined Operations. I thought you might like the attached photo to add to the D-Day 814 LCV page. My granddad was in Flotilla 813 - Horace Reynolds. 2nd row from top, 6 in from left.
May they never be forgotten.
Regards
Pete Mantell (Royal Army Ordinance Corps 1991-1996, now Ex-Pat living in USA.)
[Many thanks Pete. A great addition to the web page. Geoff.]
Acknowledgments
These are the recollections and impressions of former Royal Marine, Roy Nelson as transcribed by Tony Chapman, Official Archivist/Historian for the LST and Landing Craft Association. (Royal Navy). Further edited by Geoff Slee for presentation on the website with the addition of photographs and maps.